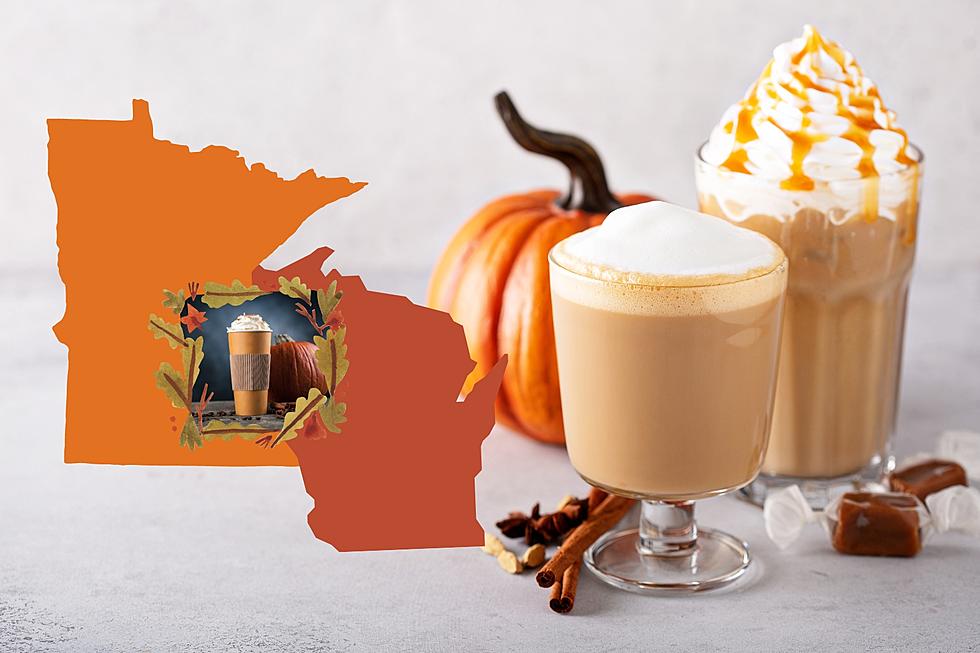 Tis The Season! Here's When Pumpkin Spice Drinks Will Arrive In Minnesota + Wisconsin Coffee Shops
Canva
Ready or not, pumpkin spice season is arriving. While some people might roll their eyes over the growing, ever-popular food and beverage fad, others count down the days each year to the arrival of their favorite drinks to coffee shops around Minnesota and Wisconsin.
As we approach the middle of August, with September approaching fast, it is getting to be that time once again for all things pumpkin spice to return.
True pumpkin spice fans know that August is usually when these drinks return to big chains like Caribou, Starbucks, and Dunkin. The real question remains - when during the month will these fall flavors arrive? Here's what we know, broken down by chain.
When will pumpkin spice drinks return to Minnesota & Wisconsin Dunkin locations?
In a not-so-sly "accident" video literally "dropped" to their Instagram page on August 8, Dunkin shared the return of the popular flavor with a simple video that reveals "Pumpkin is back 8/16".
Yup, that's right! Pumpkin's back at Dunkin on Wednesday, August 16.
Some sleuthing by Today.com found an unofficial Instagram account that shares what they say will be this year's menu for fall. If correct, menu items this fall will include pumpkin spice lattes and nutty pumpkin coffee, along with fall-themed foods like their maple sugar bacon breakfast sandwich and pumpkin donuts.
When will pumpkin spice drinks return to Minnesota & Wisconsin Starbucks locations?
While we got a confirmed date for Dunkin, things are not quite as official for Starbucks (so far). In years past, Starbucks has released its fall drinks in one of the final couple of weeks of August.
If you believe a leaked menu from the food Instagram account @markie_devo, this year's Starbucks offerings will be made available starting on August 29.
Read MORE: Cheers! Several Northland Adult Beverages To Appear At 2023 Minnesota State Fair
Included in the leaked menu are the classic pumpkin spice latte and pumpkin spice cold brew, along with suspected new items like the iced pumpkin cream chai tea latte, ice apple crisp oatmilk shaken espresso, and apple crisp oatmilk macchiato. Along with that are a handful of food items like a pumpkin cream cheese muffin and baked apple croissant.
When will pumpkin spice drinks return to Minnesota & Wisconsin Caribou Coffee locations?
The folks at Parade Magazine report that a date has been set for Caribou Coffee to unleash its fall flavors lineup on Thursday, August 24. Included in Parade's report is a list of food & beverage items like the classic pumpkin latte, iced pumpkin crafted press, pumpkin white mocha cooler, and pumpkin white mocha. A new addition they highlight is the pumpkin espresso shaker with oatmilk and a few food items - a pumpkin cream cheese muffin and maple waffle sandwich.
Top Coffee Shops in Each State According to Reader's Digest
Whenever I am traveling, I am always on the hunt for a coffee shop. Next time you are touring the U.S. or just out for a road trip in your own state, go grab a cup of coffee from the top shops in the United States according to Reader's Digest.
How did they pick the best in each state? According to their story, they checked out "customer reviews and roasting reputation". The story has more insight on each place and you can find that at
readersdigest.com.