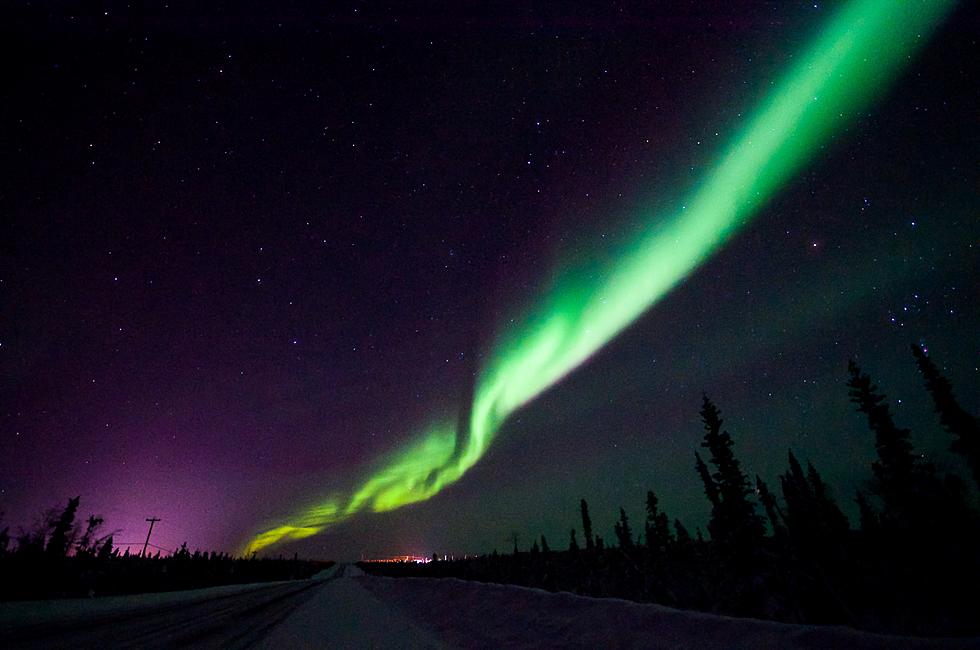 These Are Scientifically The Best Places In Minnesota For Northern Lights Viewing
Photo by Max LaRochelle on Unsplash
Seeing the aurora (northern lights) can be a breathtaking experience. Watching the sky dance with nighttime light is a treat not everyone gets the chance to enjoy, but Minnesota does get a pretty sizable amount of opportunities to see them.
As the sun heads into the peak of activity in its multi-year cycle (known as the solar maximum), the number of chances to see the northern lights is expected to go up now through 2025, before the sun goes back into the quiet part of its cycle.
Experts with Space.com say this cycle's solar maximum isn't expected to be among the most active, but there will still be an uptick in solar activity that could spark aurora shows here on Earth.
When it comes to catching a view of the northern lights, Minnesota doesn't get quite the level of shows as places like Alaska, Iceland, and Canada, but it's still quite possible to catch a great show without leaving the Land of 10,000 Lakes.
Here's what to know to give you the best chance to see them.
What are the best times of night and year to see the northern lights in Minnesota?
When it comes to the best times of year to see the northern lights, it is possible to see them any time of year. Weather and other factors make some times of year better than others for viewing.
Space.com says winter and springtime tend to be better for viewing, mostly because prolonged conditions are less likely, giving you a better chance to see the night sky. The biggest factor to consider, aside from cloud cover, is when the sun goes down, when the moon is full, and what the weather is doing.
I have had incredible viewing during all four seasons, but fall, winter, and spring offer earlier viewing opportunities, being the sun goes down earlier. Winter can be great for viewing, but cold winter nights might be offputting to some, making spring and fall "better" for viewing due to milder temperatures.
When it comes to the time of night, between 10 pm and 2 am local time is generally considered best. Some of the best northern lights I've ever seen were just after 9 pm though, so it can vary based on so many factors.
What are the best places to view the northern lights in Minnesota?
Most people know that the further north you go, the better your odds are. This puts you closer to the action. Even then, during high solar activity, the northern lights can be seen well south of Minnesota.
Aside from "heading north" and/or looking north, getting away from city lights is key to getting the most from your aurora viewing experience. Light pollution from cities blankets almost all of Minnesota to some degree, with some places being better than others.
MORE: Best 'Alternative' Romantic Destinations In Minnesota + Wisconsin For 2023
The best place overall is actually a portion of the Boundary Waters Canoe Area Wilderness, specifically in the area of Sea Gull Lake. The reason this is the best viewing destination is because it is far north, and it is the darkest sky location in the entire state, with no notable light pollution from any nearby cities. Every other portion of the state's sky has at least a small amount of light pollution, as noted in the light gray in the map below from the website Dark Site Finder.
Aside from that, where else can you go? The good news is that any areas away from cities, especially further north, give you good odds of seeing a good show.
You can see the full map on the Dark Site Finder website to find a number of rural locations around Minnesota, but here are some destination highlights in darker sky areas:
Judge C.R Magney State Park
Cascade River State Park
George Crosby Manitou State Park
Oberg Mountain
Voyageurs National Park
Itasca State Park
I'll also add Split Rock Lighthouse as an honorable mention. The park and lighthouse itself is in a pretty low light pollution area, but horizon light from Silver Bay and Beaver Bay can create some faint city glow problems on the horizon, depending on where you are viewing from. Gooseberry Falls State Park has a little more light pollution to contend with, but I've seen some good shows and captured some wonderful photos there too.
Some of these areas may see small levels of horizon light pollution (more important for photographers). In addition, I can't guarantee every one of those spots has an interesting & clean photo subject (if that's your goal), but these places are destinations you might go on a getaway that offer better viewing odds. Look north across any number of lakes in Northern Minnesota away from a town, and that can still be good viewing!
How do you know when the best chance of seeing the northern lights is?
Northern lights forecasting is notoriously tricky. One recent example of that was earlier this summer, when an early forecast (several days ahead of time) pointed to a potentially stunning show for several states, even pretty far south. That eventually fizzled as the time got closer. Then, you end up with surprise shows like one back in May, where without an advanced forecast, we get a stunning show.
Even on nights when there are good odds, sometimes things just don't develop. I've had a number of outings where I had high hopes, and saw nothing.
The best thing to do is to keep an eye on the KP index forecast for any given day. The higher the number, the further south and better show could be expected. In my experience, a KP index of 5 is pretty good for Minnesota.
You can track those forecast numbers through NOAA's Space Weather Prediction Center website. On their site, there is an estimated KP index forecast on their space weather enthusiast dashboard that shows forecasted KP index data and other forecast data.
34 Stunning Photos Of Magical Night Of Northern Lights In Minnesota + Wisonsin
May 19, 2023 was a night I'll always remember. The Northern Lights put on quite a show for a brief period of time. They were so bright you could even see them in town with the bright city lights. Here are some fantastic images submitted by B105 listeners.